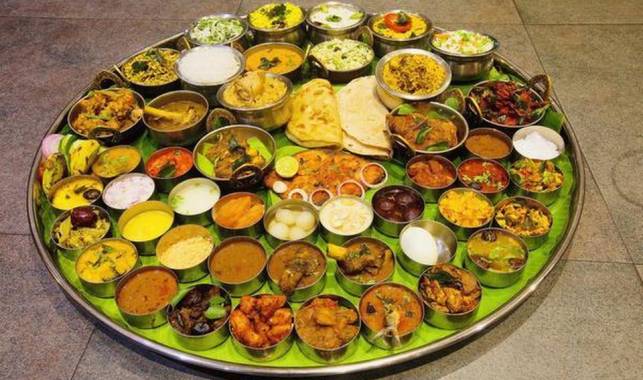 Ponnusamy's new thaali is being touted as Chennai's largest, and it looks like it just might be
Remember back in the 90s, when a sizzler came to your table, half the restaurant turned to look? Well, the giant thaali at Ponnusamy's Nungambakkam outlet, evokes a similar reaction. The looks from other diners are of part awe and perhaps part judgement as they wonder: "How much are you going to eat?"
This is Chennai's largest thaali. It's got — hold your breath — more than 50 dishes, comprising soup, starters, main course and dessert. Of which 24 are non-vegetarian and include Ponnusamy's signature items such as sura puttu (shark), mutton sukka, prawn masala, vanjaram meen varuval, mutton nalli, parotta, pitchi pota koli, mutton biryani, chicken biryani… The quantity of serving per bowl varies from 60 grams to 400 grams.
A word of caution though: Do not attempt to polish it off yourself. As reinforcements, I call two of my hungry friends. To be honest, we are overwhelmed as we go over the contents of the plate. And then, as if on a mission, we try to plan on how to go about sampling everything. An Excel sheet would have come in handy at this point. We start clockwise with appalam, the addictive, ghee-infused sambar rice, mor kolambu, poriyal, and move on to exciting ones such as fish finger, mutton kola urundai, mutton curry, egg podimas… and finally end our meal with thayir saadam followed by kesari, rasagulla, gulab jamun and jangri.
"Each plate measures 32 inches and we have specially ordered them," says Paul Raymond, who owns this outlet along with Nikhil Nath. "We launched this thaali last Thursday and it's amazing that we get nearly 70 calls every day asking about it," he adds.
This particular thaali has to be pre-booked. "For now, we are taking around 20 orders per day to maintain the quality," he says.
The idea to start something like this was to draw the family crowd at night. And ordering a thaali means everybody can sample a bit of everything, he says. But there are restrictions. It's limited to three adults or two adults and two kids, and parcelling isn't an option.
It took the team (along with Gowrishankar, whose grandfather started Ponnusamy back in 1952) a few months to finalise this menu. After various combinations (Mughlai, North Indian, tandoori, Chinese) they settled on having only Chettinad dishes. "Based on feedback, we made a few changes and included more rice in the afternoon and focussed more on chapati, paratha and naan in the evening," says Paul.
The rice and the gravies are unlimited, but a few dishes such as the vanjaram, mutton sukka and prawn masala need to be ordered again. And do people actually ask for second helpings? "Not really. But there are people who manage to wipe the plate clean," laughs Paul.